Try out these easy camping recipe that's sure to be your new family favorite! It's filling, hearty, takes minimal ingredients, and clean up is a snap – all the things that you want in a good camping recipe when you're out in your new or used RV!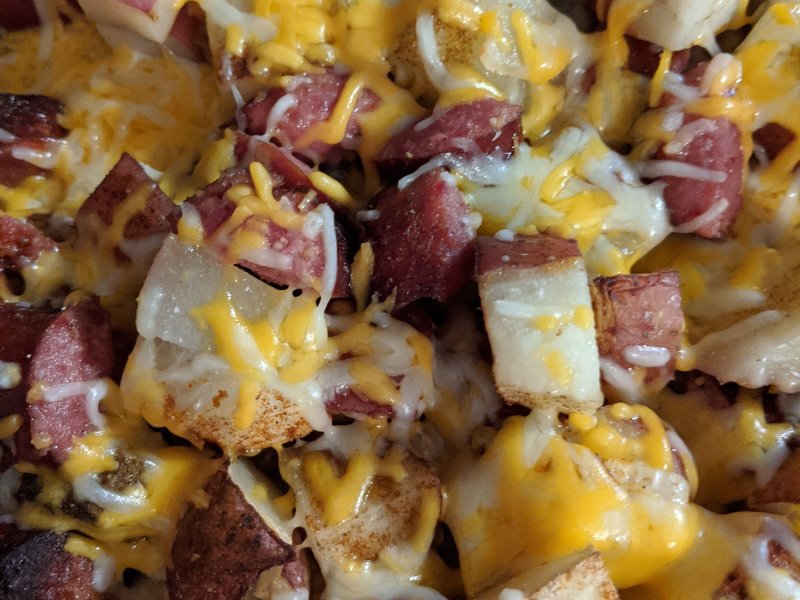 Campfire Sausage & Potatoes
Ingredients:
1 pound fully cooked beef sausage
3 pounds red potatoes
1 red onion
2 cups shredded cheddar cheese
Cooking oil
Paprika and ground thyme
Salt and pepper
You'll also need:
Cutting board
Knife
Large mixing bowl
Dutch oven or cookie sheet
Aluminum foil (optional)
Directions:
Get the campfire roaring or turn your oven on to preheat to 450!
Dice sausage, potatoes, and onion.
Mix together in mixing bowl and drizzle lightly with cooking oil.
Sprinkle lightly with paprika, thyme, salt, and pepper to taste.
If using Dutch oven, place mixture in, cover with lid, and hang over campfire.
If you're using your oven, spread mixture on cookie sheet (line with aluminum foil for easy clean up).
Bake/roast until potatoes are tender, about 25 minutes. Stir every once in awhile to redistribute and prevent sticking.
When potatoes are tender, cover mixture generously with cheddar cheese. Remove from heat and let the cheese melt into it before serving.
My family has enjoyed this terrific camping recipe for years. It's a great recipe to use year-round and because the prep and ingredients are so minimal, you'll find yourself making it again and again. It's even delicious as a hearty, hot breakfast when you reheat the leftovers! You may also enjoy using your new or used RV's outdoor kitchen to make this meal. And if your RV doesn't have an outdoor kitchen, what's holding you back? We can help you upgrade or trade in so you can really make the most of all your RV has to offer. Contact us today for help shopping for a new or used RV that has the features your family needs. We can't wait to help you get on the road!