Is there anything better than roasting hot dogs over a campfire with a hot bowl of delicious chili? This recipe for the world's best chili is perfect for brisk autumn nights. It's a great recipe for camping and you can make it even easier by doing just a bit of preassembly beforehand. Tips for preassembly and a slow cooker method are found below the recipe. Let's get started with this fantastic camping recipe for delicious chili.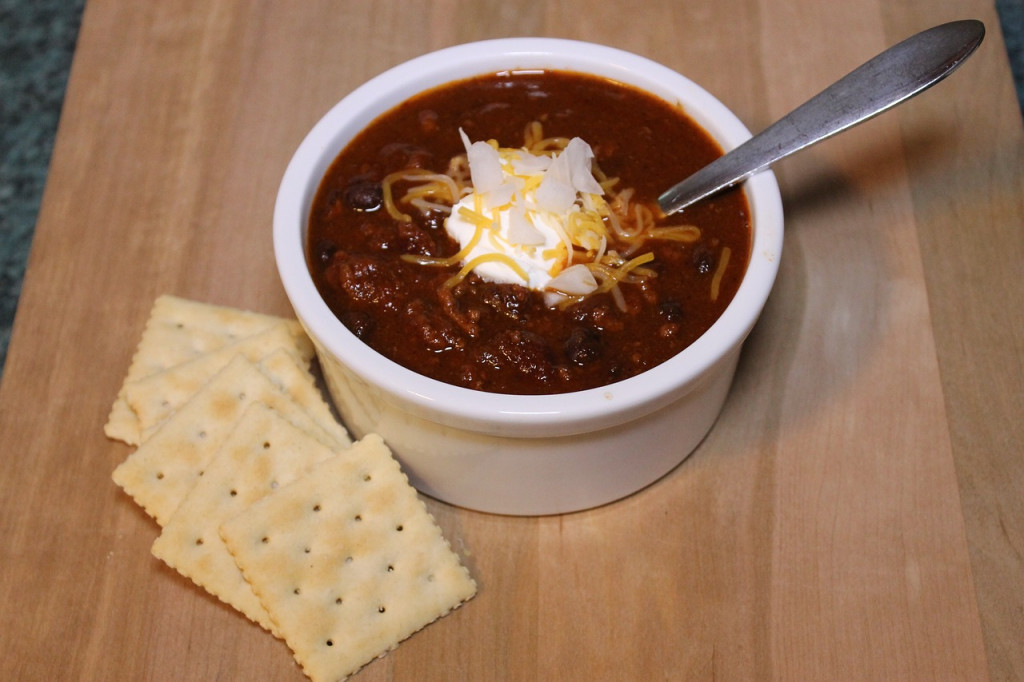 Camp Chili
Seasoning:
3 Tbs chilipowder
1 teaspoon ground cumin
1 1/2 teaspoons garlic powder
1 teaspoon salt
1/2 teaspoon ground black pepper
1/2 teaspoon dried oregano
1/2 teaspoon sugar
Dash of cayenne pepper
Want a bit of extra heat? Increase your chili powder, cumin, and cayenne peppers to kick it up a notch!
Remaining ingredients:
2 pounds fresh ground beef
1 quart tomato juice
1 (29-ounce) can tomato purée
1 (15-ounce) can red kidney beans, drained
1 (15-ounce) can pinto beans, drained
1 medium-large onion, chopped
3 stalks celery, diced
1/2 green bell pepper, diced
In a 6 quart pot, brown the ground beef with onion, celery, and green bell pepper until beef is fully brown and vegetables are tender and/or translucent. Drain off the fat. Place remaining ingredients (tomato juice, puree, and beans) along with the seasoning and stir well. Simmer on low heat for 2 hours, stirring every once in awhile to prevent sticking. Enjoy with sour cream, shredded cheddar cheese, crackers, or corn chips.
Preassembly:
Combine seasoning mix ahead of time in a zipper storage bag so you don't fill up your new or used RV's kitchen pantry with extra spices you'll only need a little bit of!
Also, consider pre-browning your meat with the vegetables ahead of time, too. Drain the fat, and place in a food storage bag in the freezer. Combine with remaining ingredients and seasonings the day you plan to cook it. Heat to warm through.
Slow cooker method: Brown meat with vegetables in a large skillet, then combine all ingredients in a slow cooker. Heat on low for 3-4 hours.
Whether you make this inside your new or used RV, or on your RV's outdoor kitchen, this will be a campfire favorite for years to come. Contact us today if we can help you shop for a new or used RV that's perfect for your family.