S'mores are an iconic camping trip treat, but sometimes Mother Nature has other plans for your campfire! Here's a great camping recipe to enjoy this sweet treat and bring your s'mores indoors. It's also perfect for cozy movie or family game nights in your new or used RV!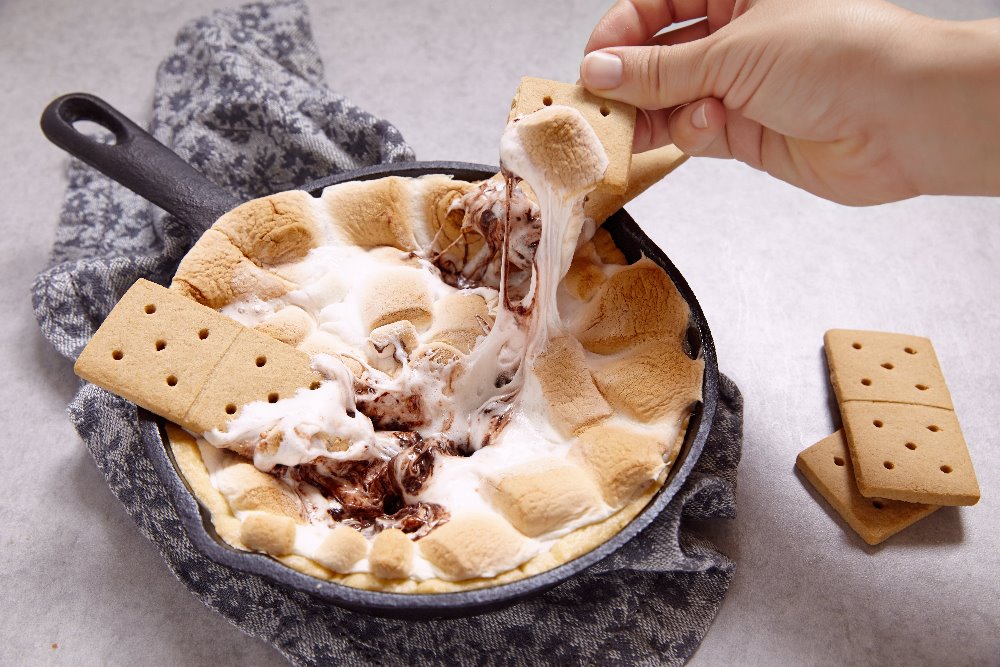 S'mores Dip
Ingredients:
1 Tbs butter
2 cups chocolate chips
15-20 marshmallows
Graham crackers
You'll also need:
Directions:
Preheat oven to 400 degrees.
Place the butter in an iron skillet or baking dish, and place in the oven while it is still preheating.
Once the butter has melted completely, remove the dish and swirly the butter around slightly so the bottom of the dish is fully coated.
Add the chocolate chips to the dish, and spread out so they are evenly distributed. Top evenly with the marshmallows.
Return the dish to the oven and bake for 5-7 minutes, or until marshmallows are toasted. For a bit of extra toasting, kick on the broiler and toast until golden.
Remove the dish from the oven with oven mitts and spoon up onto plates. Serve with graham crackers and eat chips-and-dip style!
For some fun variations, add in chopped peanut butter cups, Andes candies pieces, chopped Heath bar, etc. with the chocolate!
If your new or used RV has an outdoor kitchen and it's not raining, you can also make this recipe over a cooktop! Just use an iron skillet and remember that the marshmallows won't toast over even if they heat through. And only use a skillet designed for high temperatures, like cast iron (no glass baking dishes on your cook top!).
We'd love to help you shop for a new or used RV, or schedule some RV service and repair to get you ready for the road, so contact us today!